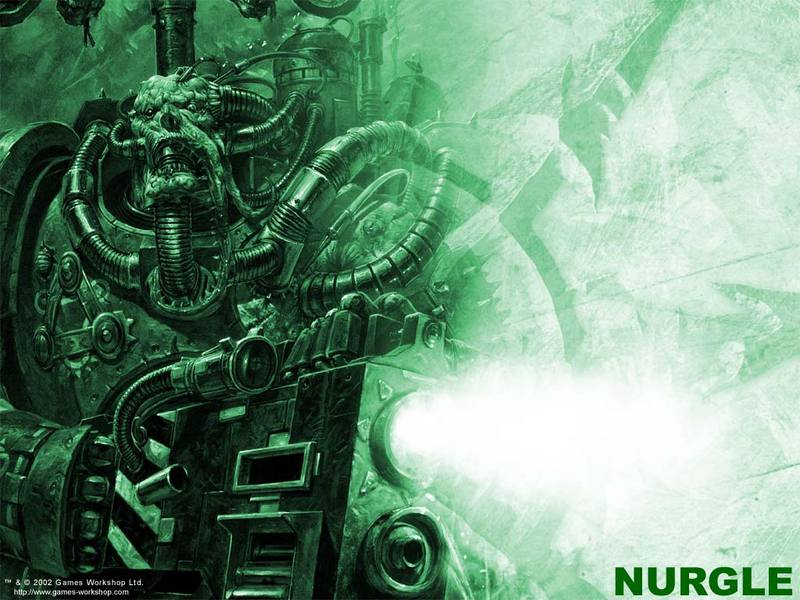 Hey everyone, I've got another nurgle list for you. This one is taking advantage of Epidemius as an Ally. When he is on the board, any model killed by any follower of Nurgle (daemon or simply marked unit) adds to a tally. Once the tally reaches certain levels, bonuses are bestowed on those units. The bonuses are amaaaazing, like all followers now wound on twos, or all attacks made from nurgle followers ignore armour saves (shooting included). Im going to include the chart for clarity.
0-4: Nothing
5-9: Plagueswords wound on a 3+
10-14: All followers of nurgle close combat attacks wound on 2+
15-19: All followers of nurgle who have feel no pain now feel no pain on a 3+
20+: All attacks made by followers of nurgle ignore armour saves
With this in mind, I want to set about building an army that will build that tally fast, and have the right models benefit at the right time. I like looking at this army concept like a 2-stage rocket. First, you need your shooters to pump up the tally so your close combat units wound on 2's who, in the second stage, will vault the tally up to the fnp boost and all attacks ignore saves buff.
First Stage
Fortunately, Mr. Kelly made it so everything and their moms can get marked in the new book. The first things that jump out at me are the Obliterators. Marked with nurgle, they are 76pts a pop but can give me the utility to open transports or drop plasma cannon templates on the enemy. I want 2 units of two.
2 Obliterators: Nurgle @ 152pts
2 Obliterators: Nurgle @ 152pts
I also am really liking bike lords this addition, and with the mark of nurgle this guy is toughness 6. The Burning Brand of Skalathrax is a torrent AP3 flamer template so with bike movement and the 12" torrent range I can really put some early pressure on the enemy. He doesn't need anything defensive because as long as he's moving he has a 5+ cover.
Chaos Lord: Nurgle, Bike, BBoS, Power Weapon, Gift of Mutation @ 155pts


Second Stage
The chaos lord needs a body guard of some kind who can keep up then detach to pummel in close combat and boost that tally rapidly, especially if they are wounding on two's. I really dig spawn in this codex, and they can be marked. Toughness 6 beasts with rage, fearless and lots of damage potential. 2 units should work fine.
5 Spawn: Nurgle @ 180pts
5 Spawn: Nurgle @ 180pts


Benefactors and Support
The real benefactors of all these buffs are plague marines. With all those buffs, they'll be unstoppable by the time they hit midfield around turn 4.
14 Plague Marines: 2 Plasma Guns, Meltabomb @ 371pts
14 Plague Marines: 2 Plasma Guns, Meltabomb @ 371pts
I also want a suitable bodyguard for Epidemius because if he dies those perks disappear. He's fearless so all I want and can afford at this point are cultists to jump in front of him. I also want another unit to sit around and take an objective.
20 Cultists @ 90pts
10 Cultists @ 50pts
We can't forget about Epidemius and his Plaguebearer tax. Under the daemonic assault rules, independent characters can join units in reserve and be treated as a single unit for splitting purposes so I'm guaranteed to get him first turn. So they'll deepstrike somewheres in my backfield and then 2nd turn epidemius will join the clutist blob, while the plaguebearers shamble towards another local objective.
Epidemius @ 110pts
5 Plaguebearers @ 75pts
Adding it up, 1886. One spawn is 36pts, how convenient. Consider him dropped. The lord will run with the smaller unit to equal the killing power.


Final Draft
Chaos Lord: Nurgle, Bike, BBoS, Power Weapon, Gift @ 155pts
14 Plague Marines: 2 Plasma Guns, Meltabomb @ 371pts
14 Plague Marines: 2 Plasma Guns, Meltabomb @ 371pts
20 Cultists @ 90pts
10 Cultists @ 50pts
5 Spawn: Nurgle @ 180pts
4 Spawn: Nurgle @ 144pts
2 Obliterators: Nurgle @ 152pts
2 Obliterators: Nurgle @ 152pts
Epidemius @ 185pts
5 Plaguebearers @ 75pts
Total: 1850pts
Scoring Units: 5
Kill Points: 11
Model Count: 78